"…those whom you will never know appreciate you giving us the ability to serve…"
-Food Bank CEO    
Dear Friends,
Remember the 3 R's from grade school? Mastering those was always a cause for celebration. So too with our 3 R's of 2015 – join us in celebrating a great year of response, readiness, and relationships!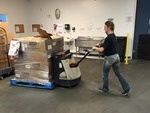 RESPONSE – 2 million meals and access to medical care for thousands
In 2015, your gift allowed us to facilitate a donation of pallet jacks to Harvest Hope Food Bank in South Carolina. This donation enabled the food bank to sort and consolidate donations, and deliver over 2 million meals to people in need. Your gift also went to coordinating delivery of donated portable clinics to communities in Sierra Leone ravaged by the deadly Ebola outbreak, as well as many other disasters throughout the year.
READINESS – disaster training for over 500 individuals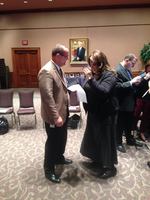 This year over 500 individuals from charities, emergency management organizations, logistics companies, and other professions participated in the ALAN disaster simulation. Your donation allowed ALAN to deliver this instruction at eight different events and instruct participants on preparing their families, businesses, and communities to respond to and recover from disaster.
RELATIONSHIPS – two dozen conferences and thousands of conversations
ALAN works year round to bring together cross sector experts to discuss and improve national resilience. We engage experts to talk about logistics strategy with emergency management and non-profit groups, improving speed and reducing costs. In Nepal, those relationships paid off when we were able to introduce a non-profit to a business in Kathmandu. The non-profit provided medical care and meals for the employees, while the business provided a secure home base for the non-profit.
As we look to 2016, we're invite you to help us continue delivering these 3 R's by providng a 4th…
RESOURCES – help keep ALAN and our partners strong
ALAN was able to deliver for those in need thanks to your 2015 in-kind and financial resources, and we are counting on your support in 2016 to continue building resilient networks and communities. Your donation or in-kind commitment helps ALAN stay poised and ready to respond, and keeps the conversations flowing year round. Make your gift online at www.ALANAid.org, or mail your contribution to 333 E. Butterfield Road, Suite 140, Lombard, IL 60148. Please note that all gifts must be postmarked by 12/31/2015 in order to be recognized as a 2015 donation for tax purposes.
Thank you for making 2015 great. We can't wait to see what 2016 has in store.
May you have a joyful holiday season and a bounteous new year!
Sincerely,
Kathy Fulton
Executive Director
American Logistics Aid Network (ALAN)

ALAN is a 501(c)(3) organization, tax ID number 26-0627264. Donations are tax-deductible to the fullest extent of the law.