10/10/2016 6:00 PM EDT Update – Hurricane Matthew
Links:  What's New, Open Needs, Resources, Fulfilled Needs, Volunteer
This report is provided for your planning purposes regarding the effects of Hurricane Matthew. As urgent requests arise they will be shared directly with appropriate industry associations and businesses.
Situation Overview
Significant flooding is occuring in the Carolinas. Please follow local evacuation guidelines (some information on NC evacuations is below) and refer to the National Weather Service http://water.weather.gov/ahps/region.php?rfc=serfc and other official information sources.
Links to information on items affecting supply chain activities is listed in the table below. Should there be information you need but do not see, please contact us and we will add it to the report.
ALAN is coordinating with emergency management and non-profit partners. Needs are posted at: http://alanaid.org/logistics-map/ Click the link to offer support or submit your offer of assistance here:http://alanaid.org/how-to-help/offerinkind/ PLEASE NOTE: These requests may take several days to a week to surface as damage assessments are completed and local resources are exhausted.
Please help us share important messaging about this storm. Retweet us on Twitter, Share our posts on Facebook, and LinkedIn .
Thank you for your continued support!
What's New –
Hurricane Matthew 
Please follow reporting from the National Weather Service and other official information sources.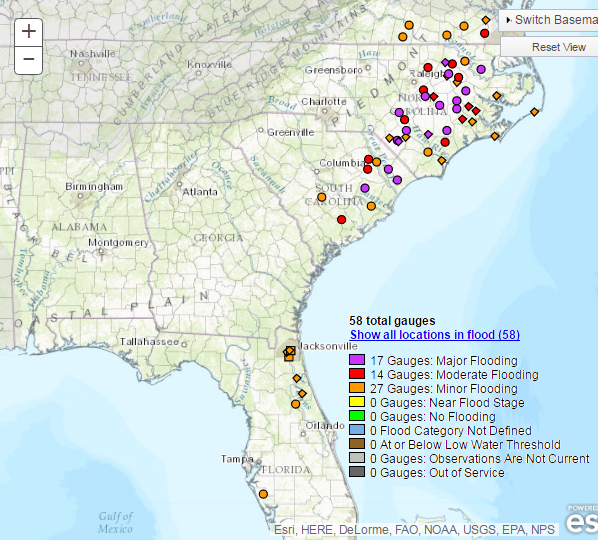 Open Needs – ALAN Nonprofit Partners
 Transportation
Warehouse
TBD
South Carolina, MIA, NYC, Orlando area
 Material Handling Equipment
Expertise
Florida: 3 forklifts
TBD
Information and Resources for Businesses
Business Preparedness / Situational Awareness
Evacuation Information (as of 10/10/2016 Noon)
http://bit.ly/2dDOo46 Location(s): Bladen County, North Carolina
Safe and Well (mark yourself or search for employees)

Facebook Safety Check

https://safeandwell.communityos.org/cms/index.php

https://www.facebook.com/safetycheck/hurricane-matthew-florida-2016/

US Chamber of Commerce Foundation Disaster Help Desk
888-MY BIZ HELP (888-692-4943)
https://www.uschamberfoundation.org/site-page/disaster-help-desk-business
National Business Emergency Operations Center
https://www.fema.gov/media-library/assets/documents/28983 Contactronald.robbins@fema.dhs.gov
Register to receive FEMA Daily Updates
https://www.fema.gov/email
Florida Business Emergency Operations Center
http://flvbeoc.org/
Re-entry guidance: http://flvbeoc.org/index.php?action=content_item&cid=113 
Report business damages: http://flvbeoc.org/index.php?action=bda
Georgia Business Emergency Operations 
Contact Janay Stargell Janay.Stargell@gema.ga.gov
North Carolina Business Emergency Operations Center
Contact Persia.Payne-Hurley@ncdps.gov
South Carolina Business Emergency Operations Center
Contact Dave Perry – dperry@emd.sc.gov
Transportation
Business access/re-entry to affected locations
A an updated summary of re-entry information for all affected states has been prepared by the Department of Homeland Security National Infrastructure Coordinating Council and is available for download from our website: http://alanaid.org/wp-content/uploads/2016/10/MatthewReentryOnePage.pdf
Curfews (as of 10/9/2016 8:00 AM EDT)

| | | |
| --- | --- | --- |
| Georgia | Curfew Begin | Curfew End |
| City of Port Wentworth | Dark | 9 AM, 10/10/2016 |
| Chattam County | Dusk | Dawn |
| Glynn County | Midnight | 5 AM, 10/10/2016 |
| Liberty County | Dusk | Dawn |
| St. Simons Island | Midnight | 5 AM |

| | | |
| --- | --- | --- |
| South Carolina | Curfew Begin | Curfew End |
| Beaufort County | 7:00 PM | 7:00 AM |
| Berkeley County | Midnight | 6:00 AM |
| Charleston County | Midnight | 6:00 AM |
| City of Charleston | Midnight | 6:00 AM |
| Colleton County | 11:00 PM | TBD |
| Dorchester County | 6:00 PM | TBD |
| Jasper County | 8:00 PM | Daylight |
| Williamsburg County | 8:00 PM | 8:00 AM |

Information on waivers for motor carriers and drivers providing direct emergency relief to, from or within the areas covered by the declarations
https://www.fmcsa.dot.gov/emergency

http://www.ahcusa.org/storm-central.html

https://frwg.geocollaborate.com/dashboard/

Motor Carrier safety waivers (including hours) of service are in place for vehicles responding to Matthew in FL, GA, SC, NC, and VA.

FL: Executive Order 16-230
GA: Executive Order
NC: Executive Order 108 (Amended)
SC: Executive Order 2015-26
VA: Executive Order 60

Road conditions
South Carolina: All Interstates are open. Ramps on Exit 22 and Exit 33 are closed; there are 281 closures on state and local roads.
North Carolina: I-95 is closed in multiple locations between Exit 81 and the South Carolina state line due to flooding.
Georgia Department of Transportation crews continue to work on clearing state routes. I-95 is open to traffic. Longstanding closures on US-80 between Savannah and Tybee Island and US-17 Talmadge Memorial Bridge have ended.

All regionally significant bridges have reopened, including the Talmadge Bridge in Savannah and the Shands Bridge in Jacksonville. Many bridges on state routes throughout the region are still actively being inspected.
Florida: The Shands Bridge in Jacksonville has reopened. The SR 206 Bridge in St. Johns County is closed, detour via SR 312 Bridge to the north or Hammock Dunes Bridge to the south. US-A1A in Flagler Beach and Ponte Vedra Beach north of St. Augustine is closed due to erosion.
Georgia: There are 21 non-Interstate bridge closures.

Port conditions:
Airport status (as of 3:00 PM EDT)
http://www.fly.faa.gov/flyfaa/usmap.jsp

| | |
| --- | --- |
| Closed Airports | Anticipated reopening |
| FAY | Unknown |
| HXD | 10/14/2016 12:00 UTC |
| SSI | 10/11/2016 16:00 UTC |

Rail status (as of 11:30 AM EDT)
Amtrak is restoring some of the service in the southeast. The following service plan will be in effect on October 10 and 11:
Florida: The Silver Star will operate only between Miami and Winter Park; otherwise, the Silver Star is cancelled between Winter Park and New York City, as is the Silver Meteor between New York City and Miami, and the Auto Train between Lorton, Virginia and Sanford, Florida.
North Carolina: Piedmont service between Raleigh and Charlotte is restored as scheduled. The Carolinian will operate only between New York City and Richmond and between Charlotte and Raleigh, with no service between Raleigh and Richmond. Intrastate North Carolina passenger service are expected to return to normal operations on October 10.
Virginia: Service to Norfolk will be restored on October 10.
Norfolk Southern has suspended freight train service between Greensboro and Selma, North Carolina due to several track washouts. Limited freight service is expected to return on October 10.
CSXT has suspended freight service in the Wilmington area and has reduced traffic significantly on its eastern North Carolina mainline through Rocky Mount and Fayetteville due to high water conditions.
Power outage maps
Facilities
Information on open / closed status of retail and lodging facilities in affected areas:
http://www.saberspace.org/status-map.html

http://wp-sites.integritygroup.com/iris/?page_id=151http://wp-sites.integritygroup.com/iris/?page_id=151

https://www.healthcareready.org/rxopen (open pharmacies)

Hotels
Florida: http://www.visitflorida.com/en-us/eam.html/#
Georgia: 1-800-Visit-GA (847-4842)

South Carolina: http://discoversouthcarolina.com/

North Carolina: 1-800-VISIT-NC (847-4862) Raleigh (Wake County)http://www.visitraleigh.com/hurricane/. 
Fulfilled Needs & Other ALAN Activities
Thank you to those who have offered support for our current response including Burris Logistics, Camrett Logistics, Commercial Warehousing, Davis Express, Esri, Grimes Logistics, Sunland Logistics, Publix, Raymond Handling, Saddle Creek Logistics, Swafford Transport, Watkins Refrigerated.
We're also grateful for our association and media partners who are sharing messaging including ATA, Food Shippers of America, Florida Trucking Association, Georgia Logistics, IWLA, MHI, WERC, DCVelocity, CSCMP's Supply Chain Quarterly, Modern Materials Handling.
If you'd like to learn more about how you can participate in future response activities, contact us today.
We continue to seek volunteers to assist with all areas of our work. If you'd like to learn more, register today.
Special appreciation to volunteers Joe T. from TSquared Logistics, Tim F. from Foremost Quality Logistics, Sandra F. from Pro Transportation Services, Inc., and Scott Ramey for their assistance with this response.
The American Logistics Aid Network (ALAN) saves lives and reduces suffering for disaster survivors in the United States by engaging industry to supplement non-profit organizations' logistics capabilities. We serve by coordinating logistics, providing education, and building cross-sector relationships before, during, and after disasters. ALAN is a 501(c)(3) nonprofit organization supported by generous corporate and private donors. Learn how you can make a tax deductible donation today.