Auld Lang Syne, the Robert Burns poem set to music and sung as a new year begins, includes the lines, "We two have paddled in the stream, from morning sun till dine; But seas between us broad have roared since auld lang syne."  Last year's unexpected passing of president Jock Menzies made for roaring seas, but thanks to partners, sponsors, and friends paddling beside us, we enter the new year under fair winds.  Even as we reflect on the past we look forward to a bright future supporting humanitarian relief activities.  This month's news focuses on ways we can all work together – ensuring resilience of our private sector supply chains, effectively helping disaster survivors, and preparing our families, our businesses, and our nation to respond to disruptive events.  We hope you'll join us in these activities throughout 2014.  Happy new year to you all – may you have calm seas!
– Kathy Fulton
Interim President & Director of Operations
ALAN Hosts Supply Chain Readiness Exercise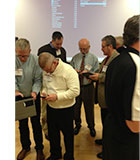 In mid-December ALAN held a disaster simulation exercise to enhance the readiness and capacity of local supply chain networks during an emergency. Representatives from private-sector supply chain operators, voluntary organizations active in disaster, emergency management, government, and military participated in the exercise. The participants used their smartphones and tablets to simulate supply chain decisions before, during, and after a supply chain disruption such as a natural disaster. Continue reading…  
Resolve to be Ready in 2014

The start of a new year is the time when individuals make resolutions and businesses set goals. In 2014, we hope your plans include ensuring your businesses and families are prepared to endure disasters or disruptions. Ready.gov has information on preparedness activities, including making a plan, building a kit, and staying informed. There are resources for all age levels in a variety of languages.
Donate Responsibly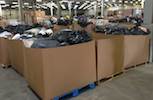 One of the biggest issues around disasters is sorting through unsolicited donations of used clothing. Instead of sending items that may not be needed, it's better to wait until communities assess and confirm their needs before donating, or making a cash donation to a reputable organization. Monetary donations have an immediate impact and help stimulate the local economy.  ALAN shares items that have been requested via our web portal. More information on how to help is available from our partners at National VOAD.
Capstone 2014 Exercise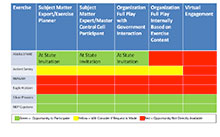 ALAN will participate in the National Exercise Program Capstone 2014; a "…complex emergency preparedness exercise comprised of five distinct, but linked, component exercises."  Opportunities exist for all size and types of organizations to participate – by providing subject matter experts, interacting with government agencies, testing internal plans, and through virtual engagement.  To determine what type of participation best fits your organization and to learn more about how to register,
download the participant guide.
Gartner publishes white paper on ALAN's role in recovery efforts after Superstorm Sandy
Our supply chain donors and partners played a critical role in helping communities recover after Hurricane Sandy. See the white paper "How ALAN Leveraged Supply Chain Relationships to Aid Recovery From Superstorm Sandy" from Gartner here. The paper is premium content and paywalled, so you'll have to register. If you are not already registered, Gartner is great resource for independent IT research and advice for professionals and businesses.
Champion Profile
DANIEL STANTON

ALAN volunteer and supply chain professional Daniel Stanton enjoys finding ways to use his expertise to serve others. When devastating tornados struck southern Illinois in late 2013, many of Stanton's close friends lost homes, cars, and possessions. That personal connection to the disaster, as well as experiences in his youth prompted him to offer help. Stanton says growing up in the country and seeing families looking out for one another and volunteering during times of crises inspired him to serve others in need. Read more…